IMAGING
SimActive Version 6.1
SimActive has announced Correlator3D™ version 6.1, now with point cloud generation. The new feature builds on its autocorrelation techniques using the GPU. Point clouds are generated in parallel with digital surface models (DSMs), with virtually no added processing time. simactive.com
BlackBridge takes global positional accuracy to a higher level
BlackBridge has just completed the production and implementation of the most current and consistent global control point database on the market, Global Reference 2.0. This will significantly improve the positional accuracy of RapidEye imagery.
Global Reference 2.0 improves positional accuracy of orthorectified imagery to under 10 m RMSE on a global scale, with 80% under 7 m RMSE. This level of positional accuracy applies to ortho-products for every region of the world. blackbridge.com
New ideas and markets emerging based on big data from space
The Copernicus Masters competition is inviting all interested participants to submit outstanding ideas, applications, and business concepts involving innovative uses of Earth observation data by 13 July 2015. Along with cash prizes, the winners will receive access to a leading international network, corresponding data, start-up funding, and other support valued at more than EUR 300,000 in total. The tremendous amounts of data produced by the European Earth observation programme Copernicus and its Sentinel satellites hugely benefit science and public authorities and open the door to countless products and applications in a wide array of business sectors. The European Space Agency (ESA) and Anwendungszentrum GmbH Oberpfaffenhofen (AZO) have thus initiated the Copernicus Masters competition to aid visionary entrepreneurs in bringing their innovations to market. www.copernicus-masters.com
ISRO and CNES MoU
A MoU was signed recently between Indian Space Research Organisation (ISRO) and French National Centre for Space Studies (CNES) on the Indo- French Megha Tropiques satellite which was launched on board the Indian launch vehicle PSLV on October 12, 2011. The MoU shall extend by two more years, the joint project for sharing and use of data from the satellite.
iX Capture 2.0 software by Phase One
Phase One Industrial, manufacturer of medium format aerial photography equipment and software solutions has released Phase One iX Capture 2.0, a control, capture and RAW conversion application designed specifically for aerial photography. Features include support for up to six cameras, Auto Exposure mode and Offl ine processing of files and complete folders. http:// industrial.phaseone.com/downloads.
First high res satellite imagery base map of Africa by DigitalGlobe
DigitalGlobe, Inc. has announced the general availability of its Basemap +Vivid product for the entire African continent. Keeping pace with the rapid evolution of mapping technology, this is the first time that a complete, consistent satellite imagery base layer with 50 cm ground resolution has been available for Africa.
This Africa base map strives to maximize consistency and completeness of the imagery, aligning to DigitalGlobe's A3C quality program. Whether zoomed out to view an entire country, or zoomed in all the way down to view local vegetation, dwellings, and infrastructure, the imagery looks the way a user expects the earth's surface to look. www.digitalglobe.com
South Africa to launch EO satellite
According to chief executive of the South African National Space Agency (Sansa), South Africa will launch its latest earth observation satellite in 2019. At the moment, the country is reliant on international satellites for information about its 1.2-million km² area, excluding its oceans. http://mg.co.za/
Airbus Defence and Space selected by CNES to build MERLIN
Airbus Defence and Space has signed a contract with the French space agency (CNES) to build the platform and carry out final integration of the MERLIN (Methane Remote sensing Lidar mission) satellite.
From 2020 MERLIN will measure methane (CH4), one of the main greenhouse gases, in the Earth's atmosphere. Using its LIDAR (Light Detection and Ranging) instrument, MERLIN will "probe" the atmosphere to determine the varying concentrations of methane, which, together with carbon dioxide (CO2), is one of the main contributors to the greenhouse effect.
New countries line up to India for satellite launches
While the Indian Space Research Organisation (ISRO) has put the country in global limelight because of its low-cost mission to Mars, its commercial wing, Antrix, has started witnessing a robust growth with more countries approaching it with offers to launch their satellites.
One such proposal of commercial satellite launch is due for June this year in which three DMC-3 earth observation satellites along with one micro and one nano satellite built by UK's Surrey Satellite Technology (SSTL) will be launched into space.
The mission is designated as PSLVC28/ DMC-3 which has been taken under a commercial agreement between Antrix Corporation Limited and DMC International Imaging (DMCII), a wholly-owned subsidiary of SSTL. http://www.hindustantimes.com/
Bagalkot to have third KSRSAC centre in State
After Mysuru and Kalaburagi, Bagalkot became the third district in the State to have a regional centre of Karnataka State Remote Sensing Application Centre (KSRSAC) for the precise recording of data of land related activities.
Dr G Satheesh Reddy to be conferred with fellowship of royal institute of navigation
Dr G Satheesh Reddy, Distinguished Scientist & Director, Research Centre Imarat, DRDO has been conferred with the prestigious Fellowship of the Royal Institute of Navigation for his signifi cant contributions in the fi elds of inertial and satellite-based Navigation and avionics technologies. Dr Reddy is the First and the only one to be elected from India.
Cartosat-1: Ten Years in Orbit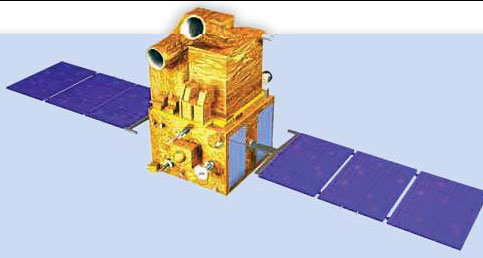 Cartosat-1 has successfully completed 10 years of life in the orbit. The satellite was launched aboard PSLV-C6 on May 5, 2005. Cartosat-1 is a unique stereoscopic mission with the capacity of acquiring along track stereo images with fixed B/H ratio. Its data is used widely by National and International community for applications related to infrastructure, urban Development, Forestry, Watershed analysis etc. It has also supported the international requirements through the International Ground Stations (IGS). Cartosat-1 scientific Appraisal Programme (CSAP) has published various reports / papers showcasing the Cartosat-1 standards vis-a-vis international standards / data.