GNSS
Dr Santiago Perea Diaz receives Parkinson award
The Institute of Navigation's (ION) Satellite Division presented Dr. Santiago Perea Diaz with its Bradford W. Parkinson Award September 20, 2019 at the ION GNSS+ Conference in Miami, Florida.
Dr. Perea Diaz was recognized for graduate student excellence in Global Navigation Satellite Systems in his thesis, "Design of an Integrity Support Message for Offline Advanced RAIM". ion.org
HawkEye 360 awards contract to build next-generation satellite constellation
HawkEye 360 Inc., the first commercial company to use formation flying satellites to create a new class of radio frequency (RF) analytics, has awarded the manufacturing contract for its next generation of satellites.
UTIAS Space Flight Laboratory (SFL) will manufacture the bus and integrate the new RF payload developed by HawkEye 360. The satellites will geolocate more signals across a wider frequency range with improved accuracy and reduced data latency for more timely delivery to customers. www.he360.com.
China launches two new BeiDou satellites
China successfully sent two satellites of the BeiDou Navigation Satellite System (BDS) into space from the Xichang Satellite Launch Center in Sichuan Province at 5:10 a.m. on September 23, 2019.
The two satellites are medium earth orbit (MEO) satellites and are the 47th and 48th satellites of the BDS satellite family.
After in-orbit tests, the new satellites will work with BDS satellites already in orbit to improve the positioning accuracy of the system.
Compared with previously launched MEO satellites, these two are equipped with lightweight hydrogen maser clocks, which will serve as a more stable precision frequency reference to make the satellite navigation system work more accurately.
The two satellites are also equipped with new processors to improve navigation signals. www.xinhuanet.com
GSA funding opportunity: Enhanced GNSS Receiver/User Terminal
The European GNSS Agency (GSA) has opened a call for proposals within its Fundamental Elements funding mechanism, targeting the implementation of OS-NMA and/or I/NAV features in close-to-market receivers and/or GNSS user terminals. The deadline for submissions is 31 October 2019.
This Call for Proposals aims to implement OS-NMA and/or I/NAV improvements capability in close-tomarket (i.e. min TRL 7) receivers and/ or GNSS user terminals suitable for target application domains other than the Smart Tachograph. www.gsa.europa.eu
French railways embrace Galileo
The French national rail company SNCF is taking a lead in adopting Galileo technology to boost customer services, in particular in its highspeed TGV network. With almost 50% of TGV trains already equipped with Galileo receivers, European GNSS is enabling improved customer information and traffic management.
Satellite positioning and geolocation technologies, like Galileo, are among the main technology building blocks that can precisely and safely locate trains and contribute to the future evolution of the European Rail Traffic Management System (ERTMS). Implementation of the ERTMS aims to harmonise signalling systems across Europe and European GNSS can help to reduce its costs.
French national rail company SNCF is already embracing GNSS-based systems, in particular for passenger information, and fleet and traffic management. "At the beginning of 2019, some 250 highspeed trains were already equipped with Galileo-ready receivers. This represents nearly 50% of SNCF's TGV fleet. Some 320 trains are expected to be Galileoready by the end of 2019" said Antoine Barre, Head of Train localisation projects from SNCF. www.gsa.europa.eu
Galileo reaches 1 billion smartphone users
Galileo, Europe's satellite navigation system, has reach 1 billion smartphone users worldwide. This milestone coincides with the 15th anniversary of the European Global Navigation Satellite Systems Agency (GSA), the Commission's key partner in operating Galileo.
Since December 2016, Galileo provides so-called "initial services" which already improve everyday life for citizens and businesses with accurate positioning, navigation and timing signals.
Today 95% of companies that produce smartphone chips for satellite navigation make chips that enable Galileo. The '1 billion users' milestone is based on the number of smartphones using Galileo sold across the world. The actual number of Galileo users is larger. In Europe, all new car models approved for the market are equipped with the eCall system, which uses Galileo to communicate the vehicle's location to emergency services. Since this year, Galileo is integrated in the digital tachographs of lorries – a speed and distance recording device – to ensure the respect of driving time rules and improve road safety. https://europa.eu/ rapid/press-release_IP-19-5529_en.htm
Australian Government purchases GNSS jamming & spoofing detection
Australia's Department of Defence has awarded AUS$28 million (about $19 million U.S.) to a range of technology companies for cutting-edge concept exploration and technology demonstration. Four of the 15 awarded projects involve satellite technology, and one of them, given to GPSAT Systems Australia Pty Ltd, is to develop GPS jamming and spoofing countermeasures.
The Melbourne-based company has developed its GNSS RF Interference FINder (GRIFFIN) technology over the better part of the last decade. The AUS$1.1 million ($750,000 U.S.) Defence contract is for three complete preliminary systems of GRIFFIN technology Phase III, with deliveries scheduled Q4 2019.
"All the underlying research and development work was completed and successfully demonstrated/validated back in mid 2017 under an earlier defence contract," said GPSAT Systems managing director Graeme Hooper.
Orolia introduces New GNSS Testing and Simulation Portfolio
Orolia has introduced its new GPS/ GNSS Testing and Simulation portfolio, including the new GSG-8 advanced simulator. Orolia's new Testing and Simulation portfolio offers a comprehensive array of GNSS validation technology, as well as signal and PNT data protection through jamming/ spoofing detection, suppression and countermeasure solutions. These capabilities are built on Orolia's legacy of Resilient PNT solutions, together with two key acquisitions completed this year: Skydel Solutions and Talen-X. These industry leading GNSS testing and simulation companies were selected based on their demonstrated testing and simulation experience. www.orolia.com
Navigation Satellite System for LTE " in 3GPP
ISRO has introduced NavIC with seven IRNSS satellites as an autonomous regional navigation system with the objective of offering Positioning, Navigation and Timing services to the users in its service area. Currently in India we use GPS (controlled by USA) in our mobile devices. Russia has introduced GLONASS and China has introduced BeiDou as the navigation systems using their own satellite constellations. These have been made part of the 3GPP Specifications. NavIC from ISRO is a regional navigation system that is better suited for Indian requirements.
For the widespread use of NavIC it is necessary that the services become available on mobile devices. World over mobile devices follow standards created by 3GPP. Therefore, it was imperative to include NavIC system in the relevant specifications of 3GPP at the earliest. The next release of 3GPP specifications (Release 16) are due to be finalised by March 2020.
Telecommunications Standards Development Society (TSDSI) members with inputs from ISRO and Reliance JIO as rapporteur, have successfully introduced NavIC as a work item in the 3GPP RAN plenary meeting held in Newport Beach, CA, USA on 21st September 2019.
Implication is that 4G and 5G devices with NavIC capability can use assisted- NavIC solution in place of or in addition to other constellations. The specifications will be available in March 2020 and TSDSI will adopt these specifications as a TSDSI standard. This success will enable the introduction of chipsets and devices with this feature within 2020. This is a significant achievement for India and TSDSI. https://tsdsi.in/ tsdsi-enables-inclusion-of-work-itemon- support-for-navic-navigationsatellite- system-for-lte-in-3gpp/
Professor Peter Teunissen receives kepler award
The Institute of Navigation's (ION) Satellite Division presented Professor Peter Teunissen with its Johannes Kepler Award September 20, 2019 at the ION GNSS+ Conference in Miami, Florida. Professor Teunissen was recognized for his influential and groundbreaking contributions to the algorithmic foundations of satellite navigation, and for sustained dedication to the global education of the next generation of navigation engineers.
Prof. Teunissen invented the Least Squares Ambiguity Decorrelation Adjustment (LAMBDA) method, the worldwide standard for ambiguity resolution, which revolutionized high precision GNSS positioning capabilities. LAMBDA has thus become an indispensable tool that is most widely used in land, air and space navigation; positioning and attitude determination; differential and network processing; and in surveying and geodesy. He also extended the method to MC-LAMBDA, a multivariate constrained resolution method for optimal GNSS attitude determination.
Among others, Prof. Teunissen laid the mathematical and algorithmic foundation of reliability theory, which enables a proper understanding of the quality of different integer ambiguity resolution methods and a rigorous characterization of their failure rates, which even led to the development of an optimal test for ambiguity validation. His findings are particularly important for multi-GNSS processing, which require a proper understanding of individual system characteristics and their respective contributions to achieve navigation solutions of the highest precision and integrity.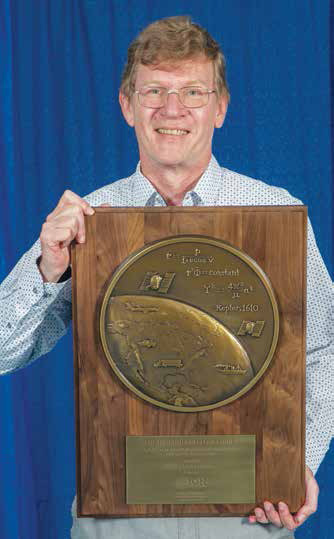 Prof. Teunissen has made significant contributions to educating future generations. He is currently a Professor of Satellite Navigation at Delft University of Technology, The Netherlands and Curtin University, Australia. He received his PhD at Delft University of Technology in Mathematical and Physical Geodesy. ion.org