COVID-19 and the role of digital technology based on the ten global trends identified by the World Economic Forum
| | |
| --- | --- |
| | This paper reviews how technology could play a crucial role in a global pandemic for timely dissemination of information and operational decision-making |
Rishiraj Dutta

Asian Disaster Preparedness Center Bangkok, Thailand
With the COVID-19 pandemic spreading rapidly across the world, one of the important aspects that came to the forefront is the role of information and communications technology. While the twenty first century has already shown the dependence on technology but the COVID-19 pandemic has proved that technology can demonstrate a crucial role at the time of crisis and disasters. Be it digital technology or drones or social media or infusion of technology as part of work from home modality, technology has played a very critical role not only for monitoring but also for addressing the daily needs of people. While digital technology such as satellite has played an important role in observing the earth's environment and mapping of COVID hotspots, drones have been able to provide critical information on lockdown procedures. Similarly, web platforms such as Zoom, Google Meetings, WebEx, Skype, etc. have kept the communications channels open for everyone whether working from home or being a medical practitioner or a news broadcaster to disseminate up-to-date information on the pandemic situation around the world. COVID-19 dashboards developed by different countries have been the most successful application of information technology providing real-time information on COVID from around the world. This review paper would therefore, try to review how technology could play a crucial role in a global pandemic for timely dissemination of information and operational decision-making.
Introduction
The year 2020, started with the COVID-19 pandemic affecting global economies, restricting movement of people and locking down countries for a prolong period of time. With a crisis which is likely to continue for a prolong period, getting into a new normal mode of life has become important. Since the beginning of the pandemic, COVID-19 distancing policies are accelerating the digital transition. As the world reacts to the pandemic, countries have become increasingly reliant on technology to support their citizens and workforce to self-isolate or quarantine themselves to mitigate the spread of the virus. Therefore, remote working or the "Work From Home (WFH)" modality as it is called in collaboration with information and communication technology (ICT) have become essential systems, with new demands placed on networks and data center infrastructure to keep the system of communication running while also ensuring that such systems are not breached and appropriate data and information security measures are put in place. Access to the internet and digital public services are now being seen as essential for dignified living, leaving no one behind (UNOCHA, 2020). Cities are at the forefront to balance the equality of services, performance, accessibility, choice, security and rights of all citizens. The live streaming of sessions or the day-to-day communications through WFH modality on digital technologies highlighted the role of new technologies during the pandemic and beyond. Moreover, it is also realized that governments need to make full use of digital technologies to confront the COVID-19 pandemic and address a wide range of pandemic-related issues. According to the UN, the pandemic is compelling governments and societies to turn toward digital technologies to respond to the crisis and, increasingly, is requiring governments to adopt an open government approach and to use digital communication channels to provide reliable information on global and national COVID-19 developments.
With the new social distancing norms and continued lockdowns in many countries, governments are forced to deploy digital technologies to contain the pandemic outbreak. A review of the national portals of the 193 United Nations Member States showed that by 25 March 2020, 57 per cent (110 countries) had posted some kind of information on COVID-19, while around 43 per cent (83 countries) had not. But by 8 April 2020, around 86 per cent (167 countries) have included information and guidance about COVID-19 in their portals (UNDESA, 2020).
From designing new apps to monitor COVID-19 to facilitate services such as delivering food and other essential items to those most in need government has been optimizing the entire supply chain via digital government services. According to the World Health Organization (WHO), it has received overwhelming support from technology-based companies to fight the COVID-19 pandemic as a result of which on April 2, 2020, some of the experts from the world's leading digital technology gathered through a virtual roundtable discussion to help in WHO's collaborative response to COVID-19. WHO has further mentioned that the pandemic has triggered an unprecedented demand for digital health technology solutions and has revealed successful solutions such as for population screening, infection tracking, allocation of resources on priority basis and designing targeted responses.
The European Union Strategy for Alpine Region (EUSALP), intends to reaffirm the importance of a robust digital infrastructure and widespread digitization of services, especially for disadvantaged areas such as rural or mountain areas realizing the need for digital technologies during crisis situation. However, digitalization should not only infrastructure focus but it should include technologies and digital skills. With every people taking to work from home or work remotely, the pandemic has made us realized that our future way of living and working has gone through fundamental changes that will have a long-term impact on our society and economy even upon return of normality, some of those new transformations will continue to stay.
Considering the several factors mentioned above, this present paper reviews how technology could play a crucial role in a global pandemic like COVID-19 for timely dissemination of information and operational decision-making.
Digital access
According to the UN, COVID-19 has made universal digital access and cooperation essential with technology proving to be a very useful and necessary tool to help governments dealing in COVID-19 related emergencies to provide essential public services as required. For instance, several tools, apps and dashboards have been deployed at the global, regional and national levels to provide up-to-date information on the pandemic situation. While this information has effectively helped in monitoring, detection and prevention of COVID-19, it has also been able to enhance the opportunities of performing modeling studies helping countries policymakers to enhance their preparation for the pandemic outbreaks including identifying containment zones and enhancing public-health education and communication. While this has brought us to the realization of the opportunities of big data and internet of things (IoT) in the long-run, it has also enabled us to understand how technology could help governments and societies to accelerate their response to the pandemic.
The International Telecommunications Union (ITU) has reported that the internet traffic has tripled during the pandemic with demands growing at a very rapid pace including the massive shift in broadband usage toward suburbs and rural areas instead of urban office buildings, where people are now telecommuting or working from their homes. However, with access to internet still limited in many parts of the world, it is now becoming important that efforts should be made where new technologies can help provide coverage at affordable prices to underserved communities and for this to happen both satellite and terrestrial technologies could play a critical role in providing access to broadband connections to the rural and remote areas.
As part of the effort to provide global digital access, the World Economic Forum (WEF) has identified ten technology trends that has evolved during COVID-19 pandemic which includes:
i. Online shopping and robot deliveries: With the lockdowns in place in most countries, the need for online shopping and contactless deliveries have become crucial. Many countries have already started launching contactless delivery services where goods are picked up and dropped off at a designated location instead of from or into the hands of a person. For example, Chinese e-commerce giants have been using robot deliveries as part of their contactless efforts.
ii. Digital and contactless payments: With the instances of cash getting infested with virus, countries like China, US and South Korea have been implementing various measures to ensure banknotes are clean before they go into circulation. Now a more secure mode of payments have been recognized that is the contactless digital payments either in the form of cards or e-wallets as a measure to prevent the spread of COVID-19. Numerous apps have also been introduced by the governments to help people carry out online purchases and utility payments such as electricity bills, phone bills, water bills, etc. However, one of the challenges of using contactless payments is that the availability of digital payments relies heavily on internet availability, devices and a network to convert cash into a digitalized format. But a recent study in 2017 by the World Bank has shown that nearly 1.7 billion adults have no access to banking which means that they are still dependent on hard cash transactions.
iii. Remote work: With the lockdowns being enforced globally, it is realized that remote work is enabled by technologies such as virtual private networks (VPNs), voice over internet protocols (VoIPs), virtual meetings, cloud technology, work collaboration tools and even facial recognition technologies that enable a person to appear before a virtual background to preserve the privacy of the home. Yet, it is found that there do exist challenges between employers and employees when it comes to data privacy and security. For instance, the recent incidences of Zoom Bombing as it is called has brought to the forefront the technological challenges that may trigger when it comes to data security issues. Although work from home modality is good in terms of preventing spread of COVID-19, it does have indirect psychological issues such as loneliness, boredom, mental stress and other health issues (Figure 1).
However, a survey conducted by the State of Report 2020, also shows that the work from home modality also has some direct benefits that includes work-life-balance (Figure 2).
iv. Distance learning: As of mid-April 2020, 191 countries have announced or implemented school or university closures, impacting 1.57 billion students. Many educational institutions started offering courses online to ensure that education is not disrupted by the quarantine measures. For example, Thailand has recently rolled out Distance Learning Television (DLTV) and online classrooms. Similarly, in Ukraine, UNICEF1 has been supporting the Ministry of Education and Science with distance learning options for students to ensure continuity and help parents, caregivers and teachers access to remote education resources and support during quarantine. Infact, Ukraine is one of the first countries since the COVID-19 pandemic to roll out its online curriculum through the Learning Passport, a global learning platform launched by UNICEF and Microsoft that ensures that education of children and youth are not affected by COVID-19 and they can continue their studies from home. Timor-Leste has also rolled out its curriculum on the Learning Passport platform after schools in the country closed in March 2020 to prevent the spread of COVID-19. The course contents include online books, videos and additional support for parents of children who have learning disabilities. As part of its efforts to help reach hearing-impaired children, UNICEF Viet Nam has introduced a video on how to prevent transmission of COVID-19 and pledged to include sign language in more of its online assets. The Ministry of Education and Training has also been supported by UNICEF in developing online and offline learning materials, including for physical exercise, to help improve children's physical strength, health and mental wellbeing during the school closures. Similarly, Government of Malawi has been developing learning programmes with support from UNICEF Malawi to be delivered on radio, television and online.
v. Telehealth: Telemedicine has become essential during COVID-19 pandemic accelerating the transition to a new model of remotely delivered health care that embraces the benefits of digital and data technologies. Telemedicine over the years have become a mainstream form of patient interaction as it defies the time-honored custom of the physical visit. With the current pandemic, many hospitals are encouraging patients to use virtual urgent care for a consultation before heading to a clinic or require any hospitalization. Virtual consultations allow doctors to treat their patients without exposing them to the risk of spreading the virus while also providing quick treatment to patients for their symptoms. It was seen that during the COVID-19 pandemic there has been an increasing utilization of telehealth (Figure 3).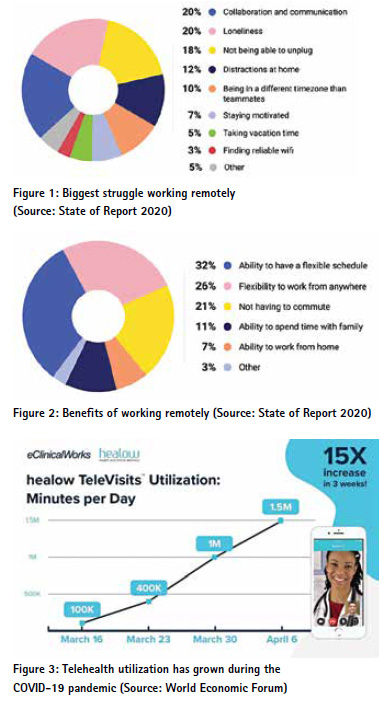 vi. Online entertainment: Although quarantine measures have reduced in-person interactions significantly, human creativity has brought them to the online platforms. Cloud raves and online streaming of concerts and release of movies have gain traction around the world. Film production companies also released films online while museums and international heritage sites offer virtual tours. According to Forbes preliminary statistics, total internet hits have surged by between 50 percent and 70 percent while live streaming has also jumped by at least 12 percent. One of the most prominent online entertainment has been the rise of TikTok. It has made mainstream news during the current COVID-19 crisis starting from a Vietnamese handwashing dance to Britain's biggest TikTokers raving together in lockdown to a remix of the BBC news theme. TikTok users have been creating videos of themselves dancing, acting and exercising to audio clips and sharing it with their friends. With TikTok becoming more popular, making its influence across different age and regional demographics, it has become a new way of entertaining oneself during lockdown while also being used for connecting with others. According to Music Business Worldwide, the week of March 16th, the video app was downloaded 2 million times (an 18 percent increase in downloads from the previous week). The app also saw a 27 percent increase in the first 23 days of March compared to February with 6.2 million downloads2. According to Netflix3, the streaming giant has announced recently that it added 15.77 million new paid subscribers globally which is well above the 7 million it had expected, as people worldwide sought ways to entertain themselves during the lockdowns.
vii. Supply chain 4.0: The COVID-19 pandemic has created disruptions to the global supply chain. With social distancing and quarantine orders, some factories have been shut down completely. While demand for food and personal protective equipment soar, some countries have implemented different levels of export bans on those items. Heavy reliance on paper-based records, a lack of visibility on data and lack of diversity and flexibility have made existing supply chain system vulnerable to any pandemic. Core technologies such as blockchain, cloud computing, Big Data and Internetof- Things ("IoT") are building a more resilient supply chain management system for the future by enhancing data accuracy and data sharing. A very recent study by Rio-Chanona et al., 2020 shows that demand and supply shocks would threaten around 22 percent of the US economy's GDP, jeopardise 24 percent jobs and reduce the total income wage by 17 percent. However, at the industry level, sectors such as transport are likely to have output constrained by demand shocks while sectors relating to manufacturing, mining and services are more likely to be constrained by supply shocks. Entertainment, restaurants and tourism will face huge supply and demand shocks. At the occupation level, however, the study shows that high-wage occupation is relatively immune from adverse supply and demand shocks while low-wage occupation will remain highly vulnerable (Figure 4 and 5).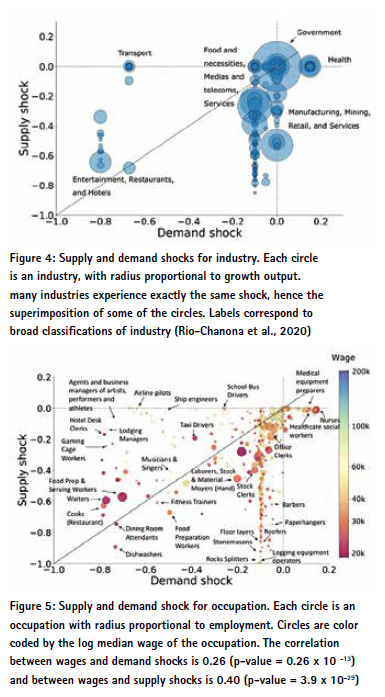 viii. 3D printing: 3D printing technology (World Economic Forum 2020) has been deployed to mitigate shocks to the supply chain and export bans on personal protective equipment (PPE). 3D printing offers flexibility in production as the same printer can produce different products based on different design files and materials, and simple parts can be made onsite quickly without having to wait long for the shipment to arrive. However, massive production using 3D printing faces a few challenges. First, there could be issues related to intellectual property involving producing parts that maybe patented. Second, production of certain goods, such as surgical masks, will require regulatory approvals that may need appropriate procedures to be followed. There could also be other unsolved issues that may include protecting design files under patent regimes, its place of origin and its impact on trade volumes including product liabilities associated with 3D printed products.
The European Association for Additive Manufacturing (CECIMO) has been responding to a request from the European Commission where members are been asked on whether they are able to aid in producing medical equipment such as valves and ventilators for hospitals tackling the COVID-19 outbreak. CECIMO has already invited the private companies to take part in the process to help countries get adequate supplies of their required equipments through 3D printing. Many companies from the European 3D printing industry have come forward voluntarily to aid hospitals and health centers by proposing the use of their machines and technology. There are already some good examples of how 3D printing has enabled hospitals in getting their required demands at the shortest possible time. One such example was a hospital in Italy where a Brescia-based engineering firm, used 3D printing to meet the hospital's demands and saved patients' lives. Materialise, a global provider of 3D printing services, has released files for a 3D printed hands-free door handle attachment to alleviate Coronavirus transmission via one of the most common mediums that is the door handles. Similarly, 3D printed hand sanitizer holder was designed by an engineer specializing in surgical 3D printing in Saudi Arabia where a 3D printable wrist clasp holds a bottle of sanitizer for easy access.
ix. Robotics and drones: COVID-19 makes the world realize how heavily we rely on human interactions to make things work. Labor intensive businesses, such as retail, food, manufacturing and logistics are the worst hit. COVID-19 provided a strong focus on robotic research and usage of robots. In recent months, robots have been used to disinfect areas and to deliver food to those in quarantine. Drones have walked dogs and delivered items.
A recent study by Yang et al., 2020, published in the Science Robotics said that robots have the potential to be used for disinfection, medications and food delivery purposes, monitoring and measuring vital signs, and assisting border controls. With the pandemic, the realization in the potential roles of robotics have become very clear. The study further states that for disease prevention, robot-controlled non-contact ultraviolet (UV) surface disinfection should be used as COVID-19 spreads not only from person to person via close contact respiratory droplet transfer but also via contaminated surfaces.
Some good case examples (Dasgupta, 2020) of robots being used during COVID-19 includes Providence Regional Medical Center in Washington using robots equipped with a microphone, stethoscope and camera to treat COVID-19 patients in a contactless manner. In China, a large number of hospitals have ordered the Disinfection Robot UVD manufactured by Denmark's Blue Ocean Robotics that have played a key role in controlling the virus in Wuhan. In the UK efforts have been made by the robotic experts to build a healthcare robot that can talk with more than one patient at the same time.
According to a recent assessment, it was found that long-endurance drones or Unmanned Aerial Vehicles (UAVs) proved their value against COVID-19 (Cozzens, 2020). Public and private organizations are racing against time to develop experimental treatments and vaccines to fight COVID-19. At the same time, many private companies are thinking out of the box to find ways to minimize the effects. One such effort has been the deployment of drones to contain the spread of the pandemic. Drones can be used for a wide variety of purposes that includes distributing public information like voice messages for following social distancing norms, delivering medical supplies as well as spraying disinfectants in COVID-19 areas or containment zones. As of now several startups in Europe such as Quaternium, Drone Tools and Manna Aero, and in the U.S. and Canada, companies such as Zipline and Draganfly are exploring ways of how they can help in their regions and neighboring countries to decrease the aftermaths of the pandemic and save more lives.
x. 5G and Information and Communications Technology (ICT): All the aforementioned technology trends rely on a stable, high-speed and affordable internet. While 5G has demonstrated its importance in remote monitoring and healthcare consultation, the adoption of 5G will increase the cost of compatible devices and the cost of data plans. According to IoT World, 5G may take a hit in the short and medium term given the spread of COVID-19 globally and resulting supply chain disruption including 5G hardware delays and general effects of the economic downturn. But in the longer term, the burgeoning needs for home connectivity, digital health and even economic stimulus measures may give 5G buildout a boost. 5G, or fifth-generation wireless connectivity, has already fasten the speeds up to 100 times compared to 4G connectivity and gives greater network reliability. According to an article published by Ericsson4, it makes it very clear that connectivity matters in a time of crisis. The article further states that mobile networks across Europe are proving a critical backbone amid this pandemic with cellular, broadband and wireless technologies helping businesses run remotely and smoothly. Many telecoms providers have recognized that their services are proving to be an essential lifeline now more than ever, with operators across Europe providing free data to their customers during this moment of crisis.
Monitoring, detection and prevention
One of the most important aspects of COVID-19 is to monitor, detect and prevent the spread of the pandemic. In order for this to be achieved, involvement of technology and innovation is a pressing need. Within a few months of the outbreak of COVID-19, it was felt the need for a real-time COVID-19 dashboard that would tend to provide up-to-date information on the pandemic both at the global and country scale. Based on this understanding efforts were made to explore the potential application of four inter-related digital technologies that includes internet of things (IoT), big data analytics, artificial intelligence (AI) and blockchain to augment the traditional public health strategies of COVID-19 that is monitoring, detection and prevention and mitigation of the impact of healthcare indirectly related to COVID-19 (Ting et al., 2020). This has resulted in developing dashboards that are today providing real-time and up-to-date COVID-19 information not only at the global level but also at the country level.
COVID-19 Dashboard by John Hopkins University's Center for System Science and Engineering
John Hopkins University's Center for System Science and Engineering developed a real-time tracking map (https://coronavirus.jhu.edu/map.html) following the cases of COVID-19 throughout the world using the data collected from the US Centers for Disease Control and Prevention (CDC), the World Health Organization (WHO), the European Center for Disease Prevention and Control, the Chinese Center for Disease Control and Prevention (China CDC) and the Chinese Website DXY which aggregates data from China's National Health Commission and the China CDC (Ting et al., 2020) (Figure 6).
Worldometer
The Worldometer (https://www. worldometers.info/) provides a realtime update on the actual number of people infected by COVID-19 worldwide including daily new cases, virus distribution by countries and the severity of the pandemic (Figure 7).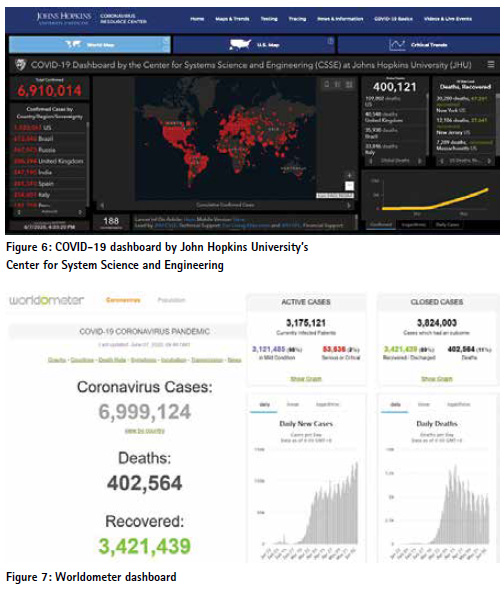 Climate Data Store: Monthly Climate Explorer for COVID-19
This dashboard (https://cds.climate. copernicus.eu/apps/c3s/app-c3s-monthlyclimate- covid-19-explorer) developed by Copernicus Climate Change Service, enables user to explore that air temperature and humidity could alter the spread of COVID-19 by plotting the average air temperature and humidity of the most recent months, alongside climatological air pollution levels from the Copernicus Atmosphere Monitoring Service and the mortality data obtained from Johns Hopkins University (Figure 8). Novel Coronavirus (COVID-19) Infection Map This online interactive map (https:// hgis.uw.edu/virus/) enables users to track both the global and local trends of Novel Coronavirus infection since January 2020. The supporting dataset is timely collected from multiple official sources and then plotted onto this map.
The data are mainly collected from 1. National Health Commission (NHC) of the People's Republic of China 2. China's Provincial & Municipal Health Commission, China's Provincial & Municipal government database 3. Public data that are published from Hong Kong, Macau, and Taiwan through official channels 4. World Health Organization (WHO) 5. Centers for Disease Control and Prevention (CDC) 6. Public Health Agency of Canada (PHAC) 7. Baidu. 8. the state officials of different states in the U.S. 9. NBC News. The dataset can be downloaded and viewed in the CSV format. To make a timely data and map updates, data is collected every 4 hours, and the data quality is verified per day. In addition, the dashboard also provide finer-scale data from China (at the county level), U.S. (at the state level) and Canada (at the province level) in its next updated version (Figure 9).
COVID-19 surveillance dashboard
The Network Systems Science and Advanced Computing (NSSAC) division of the Biocomplexity Institute and Initiative at the University of Virginia has developed a visualization tool (https:// nssac.bii.virginia.edu/covid-19/dashboard/) to support the planning and response efforts for the COVID-19 pandemic by providing a unique way of examining data curated by NSSAC (Figure 10).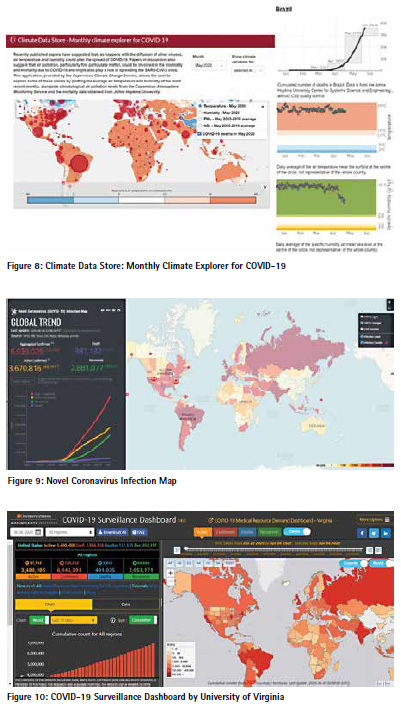 WHO Coronavirus Disease (COVID-19) dashboard
WHO has developed a COVID-19 Dashboard (https://covid19.who.int/) that presents COVID-19 cases and deaths reported by countries, territories and areas to the World Health Organization (WHO). While the WHO COVID-19 Situation Reports present official daily counts, this dashboard is intended to serve as a frequently updated data visualization, data dissemination and data exploration resource (Figure 11).
Bhuvan COVID-19 dashboard
The Indian Space Research Organization (ISRO) is supporting State Governments in India by providing Geo-spatial tools and location-based solutions to fight against COVID-19, including national level Corona virus tracker. The Bhuvan geoportal has the capability to provide daywise COVID-19 spread in India, Statewise spread trends, pan India scenarios and deceased statistics (Figure 12).
The geoportal provides graphical presentation at national level as part of its effort in sensitizing common man on the Covid-19 situation on a regular basis, based on the data being made available by the Ministry of Health and Family Welfare of the Government of India. The link to the dashboard can be accessed at Bhuvan COVID-19 Dashboard. https://bhuvan-app3.nrsc. gov.in/corona/corona_dashboard/ dashboard/dashboard.php?type=citizen
Outbreak India COVID-19 dashboard
The outbreak India COVID-19 dashboard too is a customized COVID-19 dashboard that is developed as a means of creating awareness about COVID-19 and its spread in India with a live tracker, analysis and breakdown of cases, up to the state level so that accurate and up-to-date information about COVID-19 cases are available to everyone. (Figure 13).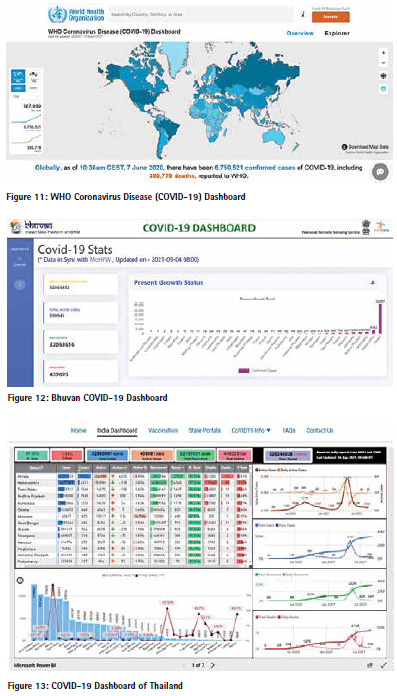 The dashboard uses data from the Ministry of Health and Family Welfare, Government of India and the data related to COVID-19 test are updated based on the bulletins issued by the State Governments and the Indian Council of Medical Research (ICMR). The dashboard also provides up-to-date information on vaccination trends (Figure 14). The Outbreak India COVID-19 dashboard can be accessed at https:// outbreakindia.com/india-dashboard
COVID-19 risk assessment tool of India
The COVID-19 Risk Assessment Tool (https://www.covid19risk.net/) for India has been developed by a group of Disaster Management professionals from RIKA India (Figure 15).
The tool collects geotagged data once the responder permits it on his/her device. The State, District and pin code is important for identifying locational/spatial risk. The survey does not collect any data linked to mobile number or other details of the respondent. The tool can be used generically in any country condition by translating the questions to local language for deeper community penetration. The tool can also be disseminated by national and local disaster management authorities, embedded in various government websites, UN agencies, NGOs, and also by retail sites of amazon India.
Sahyog COVID-19 India
India's national mapping agency, the Survey of India (SoI), has developed an e-platform called Sahyog COVID-19 India (https://indiamaps.gov.in/covid/) that collect geotagged information on the nation's critical infrastructure in order to help the Government and public health agencies take critical decisions in response to the COVID-19 pandemic (Figure 16). The platform contains geo-locationbased information of hospitals, testing labs, quarantine camps, containment and buffer zones as well as information on biomedical waste disposal sites. The platform is supported through a mobile based application, called SAHYOG, which works as a key tool in helping community workers carry out the Government's objectives of door-to-door surveys, contact tracing, essential items delivery and also used for public awareness campaigns. This platform and app help to enhance efforts of Government towards improving its response mechanisms to COVID-19 at crucial time. The platform is expected to strengthen the public health delivery system of the State and Central Governments and subsequently provide the necessary geospatial information support to citizens and agencies in dealing with the challenges related to health, livelihoods and socio-economic distress.
Corona live database of Bangladesh
Bangladesh Institute of Planners (BIP) has customized COVID-19 Dashboard developed by John Hopkins University (Corona-Live- Database-Bangladesh) for monitoring the COVID-19 cases in the country on a daily basis and providing the situational report to the Department of Disaster Management (DDM) and also the local government (Figure 17).
Although so many dashboards have been made available during the COVID-19 pandemic, it however requires to be understood that there is an enormous effort involved in designing these dashboards. One need to make sure that the data representations are consistent and accurate, while also considering people's concerns and fears by strictly maintaining data privacy and security. These dashboards help simplify large-scale, complex and often disorganized data in a way that users can easily process the data, assess the situation and form an informed decision.
Mitigation of COVID-19
The challenge of sharing best practices for risk mitigation during the COVID-19 pandemic is high (Koonin, 2020) and it will require mechanisms that can build upon knowing how to evaluate, plan, implement and maintain risk mitigation measures, together with appropriately identifying the right people to be engaged (Renn, 2008; Di Nucci et al., 2017). Further, it should also identify the chain of command who is responsible for decision-making, communication and information dissemination. These mechanisms of communications are especially important to bring together different regions around the world in discussing and preparing for the different phases of a pandemic, quickly understanding lessons learned and applying them in the regions that are going through the earlier steps of the process (Bruinen et al., 2020). Risk mitigation is an interdisciplinary decision-making process based on information from risk and exposure assessment (Bruinen de Bruin et al., 2007) taking into consideration political, socioeconomic, epidemiological, (mental) health and engineering data to compile regulatory mechanisms and select the appropriate regulatory response to COVID-19. With COVID-19 spreading rapidly throughout the world, countries have already initiated risk mitigation measures and are trying to prepare for the future by looking at countries that are ahead in tackling the pandemic and learning from their experiences (Wu and McGoogan, 2020). Some of the measures includes mobility restrictions, socio-economic restrictions, physical distancing, communications and international support mechanisms. While timely first response during pandemics benefit from globally harmonized risk mitigation options, at the same time, citizens' awareness addressing individual and group roles creates obedience of imposed measures. Moreover, global acceptance, preparedness and alignment are also key aspects of a local outbreak.
Risk mitigation should also include maintaining a core and critical clinical services. Healthcare systems should ensure the integration of digital technology that would allow the functioning of virtual clinics using telemedicine consultations including imaging data like X-rays, CT scans, etc. that could be interpreted remotely. This in turn would ensure that patients continue to receive standard clinical care while maintaining physical distance including avoiding crowding at hospitals.
Another mitigation measure that is becoming increasingly important is the use of mobile applications (apps) to monitor COVID-19 hotspots. Many countries have already deployed such apps to increase its surveillance to prevent spread of the virus. The Aarogya Setu app for instance is an Indian open-source crossplatform COVID-19 contact tracing, syndromic mapping and self-assessment digital service or mobile app, developed by the National Informatics Centre under the Ministry of Electronics and Information Technology of the Government of India (Figure 18). The app has reached over 100 million installs in 40 days from the day it was launched. The stated purpose of this app is to spread awareness of COVID-19 and to connect essential COVID-19 related health services to the people of India by sharing best practices and advisories as initiated by the Department of Health to contain COVID-19. The app uses the smartphone's GPS and Bluetooth features to track the coronavirus infection. Using the Bluetooth, it determines the risk of a person if he/she has been near (within six feet) to a COVID-19 infected person, by scanning through the database of known cases across India. Using location information, it determines whether the location belongs to one of the infected areas based on the data available.
The Ministry of Digital Economy and Society of the Royal Government of Thailand have launched a COVID-19 monitoring app named "Thai Chana". Thai Chana is a smartphone application that helps to facilitate contact tracing for safety of both customers and establishments during the Covid-19 pandemic. As of 18 May 2020, more than 2.6 million shoppers have downloaded the app. The application helps the government to quickly track people infected with COVID-19 and those who got in close contact with them (Figure 19).
Similarly, many countries have started using contact tracing mobile apps that not only helps government to monitor but quickly trace any person who comes in contact with an infected person and who should self-isolate themselves as and when being traced.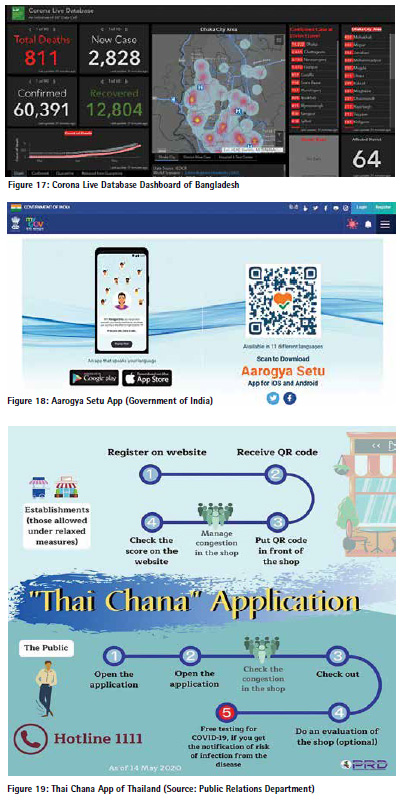 Conclusions
While the COVID-19 pandemic is showing no signs of declining, it is well understood that coronavirus is likely to continue for a prolong period of time. As a result, dependence on digital technology is also likely to continue both in terms of demand and supply. The global lockdown has already imploded data demand globally as more people are working from home than ever before resulting in triggering an increase in the consumption of online content resulting in increased use of mobile applications that were earlier considered suitable only for preteens. With the public recalibrating its relationships with technology, the COVID-19 pandemic has further accelerated the speed of technology change with people suddenly becoming highly dependent on Zoom, Google Meetings, Google Classroom, Microsoft Teams, WebEx, Skype, YouTube and so on. The pandemic has greatly increased our dependency on technology while also making the people to realize the efficient use of data and information for one's dayto- day work. However, in the midst of all these, it is well acknowledged that the pandemic and the subsequent lockdown has brought the digital future forward through the heightened levels of digital activity taking place. This has also made us to further rethink how during a crisis like COVID-19 will help us integrate digital and real world of works over an extended period of time. While technology will continue to evolve, the government will also have to go handin- hand towards implementing regulatory requirements and mandates including measures related to data security and privacy.
End notes
1https://www.unicef.org/pressreleases/ unicef-and-microsoftlaunch- global-learning-platformhelp- address-covid-19-education
2https://www.newsweek.com/ tiktok-users-soar-viral-videoscoronavirus- covid-19-1494229
3https://www.theguardian.com/ media/2020/apr/21/netflix-newsubscribers- covid-19-lockdown
4https://www.ericsson.com/en/ patents/articles/lessons-fromcovid- 19-connectivity-matters
References
De Bruin, Y.B., Lequarre, A.S., McCourt, J., Clevestig, P., Pigazzani, F., Jeddi, M. Z., Colosio, C. and Goulart, M. (2020). "Initial Impacts of Global Risk Mitigation Measures Taken during the Combatting of the COVID-19 Pandemic", Safety Science, 128, pp. 1 – 8.
Bruinen de Bruin, Y., Lahaniatis, M., Papameletiou, D., Del Pozo, C., Reina, V., Van Engelen, J., Heinemeyer, G., Viso, A.C., Rodriguez, C. and Jantunen, M. (2007). "Risk management measures for chemicals in consumer products: documentation, assessment, and communication across the supply chain", Journal of Exposure Science and Environmental Epidemiology, 17 (1) (2007), pp. S55-S66.
Cozzens, T. (2020). "Long-endurance Drones Prove their Value Against COVID-19", GPS World, 6 May 2020.
Dasgupta, S. S. (2020). "How Robots are Helping in Fight Against COVID-19?" Geospatial World, 17 April 2020.
Maria Del Rio-Chanona, R., Mealy, P., Pichler, A., Lafond, F. and Farmer, J. D. (2020). "Supply and Demand Shocks in the COVID-19 Pandemic: An Industry and Occupation Perspective", CEPR Covid Economics, Issue: 6, pp. 65 – 103. arXiv:2004.06759v1 [econ.GN] 17 April 2020
Yang, G.Z, Nelson, B.J., Murphy, R.R, Choset, H., Christensen, H., Collins, S.H., Dario, P., Goldberg, K., Ikuta, K., Jacobstein, N., Kragic, D., Taylor, R.H. and McNutt, M. (2020). "Combating COVID-19 – The Role of Robotics in Managing Public Health and Infectious Diseases", Science Robotics, 5 (40).
Koonin, L. M. (2020). "Novel Coronavirus Disease (COVID-19) Outbreak: Now is the Time to Refresh Pandemic Plans", Journal of Business Continuity Emergency Planning, 13 (4) (2020 Jan 1), pp. 1 – 5.
Di Nucci, M. R., Brunnengräber, A., Isodoro Losada, A. M. (2017). "From the "Right to Know" to the "Right to Object" and "Decide": A Comparative Perspective on Participation in Siting Procedures for High Level Radioactive Waste Repositories", Progress Nuclear Energy, 100.
Renn, O. (2008). "Risk Governance: Coping with Uncertainty in a Complex World", Earthscan, Oxon, UK/New York (2008).
Wu, Z. and McGoogan, J. M. (2020). "Characteristics of and Important Lessons from the Coronavirus Disease 2019 (COVID-19) Outbreak in China: Summary of a Report of 72,314 Cases from the Chinese Center for Disease Control and Prevention", Jama.