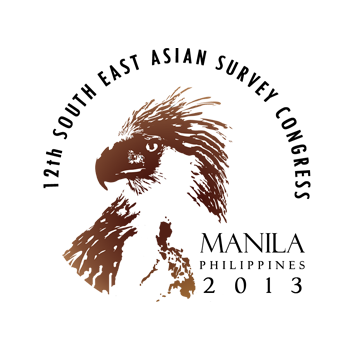 "Geospatial Cooperation Towards a Sustainable Future"
The Philippines will host the 12th South East Asian Survey Congress on 18-20 June 2013 at the Philippine International Convention Center (PICC) in Manila. The National Mapping and Resource Information Authority (NAMRIA) will spearhead the event with the Philippine Geodetic Engineering and Geomatics Society (PHILGEGS) in collaboration with the Association of Southeast Asian Nations (ASEAN) Federation of Land Surveying and Geomatics (AFLAG).
The Congress with the theme "Geospatial Cooperation towards a Sustainable Future" aims to provide updates on surveying, mapping, and geomatics through paper and product presentations. It will be a great opportunity for professionals from the ASEAN region and other parts of the world to hear issues, share initiatives, and learn first-hand solutions. It will also be an avenue for the declaration of unity and solidarity to strengthen cooperation among
AFLAG member states.
The activities for the three-day event include plenary sessions, technical sessions, and map and technology exhibit. The plenary sessions will include panel discussions and keynote speeches of key officials from the Philippines, AFLAG, the International Federation of Surveyors, technical institutions, and international organizations. The technical sessions will cover topics on land administration and resource management; valuation and real estate management; construction and transportation management; coastal and marine resource management; environmental management; local governance; geospatial intelligence; education and mutual recognition; institutional development and capacity building; climate change and disaster risk reduction; geospatial information management and cooperation; spatially enabled society; geovisualization; and other geospatial science and technology applications and innovations. The map and technology exhibit will showcase the latest technological trends in surveying, mapping, and geomatics. Interested participants are encouraged to visit the Congress website at www.seasc2013.org.ph for more details.