"Our receivers maximize the use of SBAS"
Sep 2008 |
Comments Off

on "Our receivers maximize the use of SBAS"
| | |
| --- | --- |
| | Geneq's geomatics division came in being in 1993 to supply GIS grade GPS receivers to meet the growing needs of submeter mapping industry. With 2003 came the SXBlue PS, the world's first GIS grade Bluetooth submeter GPS receiver. Later in 2007, a second generation, the SXBlue II GPS was born, adding and integrated battery pack and a USB port to the existing Bluetooth and serial ports. |
| | |
Following are the excerpts of the interview with Mr. René Parise, Vice-President of Marketing at Geneq Inc. highlighting various aspects of GPS business at Geneq.
1. "We offer the most technologically advanced products as well as the best quality/price ratio" Please elaborate.
With our SXBlue GPS series, we pioneered the market for real-time, sub-meter mapping based on SBAS as the primary source of differential correction optimized for DGPS operations in difficult environments like under forest canopy. Furthermore, the SXBlue GPS series require no post-processing when using SBAS signals reducing initial investment and thus keeping training for field and office personnel to a minimum.
2. What are the different products offered by Geneq Geomatics Division? What are different applications these products focus on?
Geneq's Geomatics Division focuses primarily on offering products and solutions around its SXBlue GPS series. The receivers are either sold alone for a customer to create his own mapping system based on his requirements and budget, or inside a package in our SXBlue Mapper series. We also offer companion products to complement our receivers such as laser rangefinders, rugged PDA's, radios and field data collection software. These companion products offer turnkey solutions to various types of applications such as water and electric utilities, bathymetric surveys, forestry and machine guidance, environment, land mapping and range of other appplcations.
3. What is unique about SXBlue GPS receivers? Are they meant for any specific kind of applications?
The SXBlue II GPS, being the world's first Bluetooth mapping grade GPS receiver redefined the structure of a typical data collection system. Using a modular system (separate computer, GPS receiver and software components) and ensuring a bulletproof wireless Bluetooth communication sets the users free not only to create the field data collection based on the needs but also to keep up with the technology. With the SXBlue GPS series being compatible with any off-the-shelf NMEA compatible software, a big percentage of our customers that have experienced the benefits of such a modular approach, either of PDA's, Tablet PC's or the new emerging UMPC's. The SXBlue GPS series is also field upgradeble theorugh single frequency RTK to deliver a very affordable realtime centrimeter level accuracy for various applications like environmental monitoring application, mineral explorations, geophysics and also typical surveying.
4. How do you see the growth of GPS and GIS business in Asia-Pacific region. How does Geneq plan to tap the potential of this region.
We are very excited about the Asia-Pacific market for our products. Last September, MSAS was declared operational. Our tests confirm the accuracy is better than we expected. We are truly impressed with MSAS. We also were early testers of India's GAGAN system. In fact, we were the only mapping grade GPS system that I know of that collected test data from GAGAN. The results were quite encouraging and we look forward to the broadcast from GSAT-4. We have distributors for India and Japan already in place and we are also working on other partnerships in the region. Since Australia doesn't seem to be going for SBAS and with our commitment to provide reliable worldwide realtime solutions to the market, Geneq will be soon be releasing and L-Band version of the SXBlue II GPS. This would allow customers in countries like Australia not supported by SBAS signals to enjoy the same benefits of the technology. Furthermore, a single frequency (L1) RTK package will also be released to support a growing demand for high precision (cm-level) GIS applications in which surveying knowledge would not be necessary. With the Indian GAGAN signal coming back soon as the world's 4th SBAS system (with the future launch of the GSAT-4 satellite), the South Asia region should soon enjoy the same benefits with the SXBlue GPS as WAAS, EGNOS and MSAS users.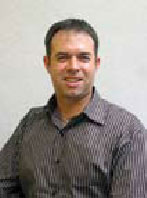 Mr. René Parise, Vice-President of Marketing at Geneq Inc.