"We are now better, bigger and different"
says François Erceau vice president and general manager of Ashtech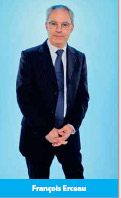 While commenting on the name change from Magellan Professional to Ashtech you said, "Ashtech brings a remarkable legacy of technology, precision, and innovation, but the 'new Ashtech' is a venture for the 21st century." Would you like to elaborate?
Founded in 1987, Ashtech® has long played an important role in the progress of the precision positioning industry. We have been at the forefront of GPS technology, beginning with Z-tracking. We were the first to take advantage of the GLONASS constellation, the first with a GLONASS GNSS board (GG12, 1998), the first cable-less Survey GPS system (Locus, 1997), the first Internet-enabled GPS reference station (iCGRS, 2002) and the first Survey/GIS combined instrument (ProMark 3, 2005).
More recently, we introduced a line of incredibly compact professional grade GNSS products and an innovative series of handheld GPS/GIS receivers, the MobileMapperTM series. We are now better, bigger and different, which is why we say that Ashtech is a new venture for the 21st century. The initial business of the Ashtech brand was high-end precision products. The new Ashtech is composed of those high-precision products, but also now includes handheld solutions for GIS and survey users.
One noticeable change in the 'new' Ashtech is that it is without the Magellan Consumer Products Division. How does this change fit in with the overall strategy of Ashtech?
The original and lasting identity of the Ashtech brand was always been high-end precision products. The new Ashtech retains this high-precision product focus, adding handheld solutions for GIS and survey users. As Magellan Professional, we existed as a division of Magellan, the well-known GPS firm that focused on global consumer sales. Our owners then and now, Shah Capital Partners, have always placed a high priority and emphasis on Engineering. This focus continues as demonstrated by the extraordinary number of new offerings we are bringing to market this year. I think it is also interesting to note the same core employees have been through all these changes, and our mission has always stayed close to the Ashtech roots. As a leading GNSS solutions manufacturer, we intend to be visible and active on every market where GNSS positioning and precision are needed, on the highest end as well as on the entry level.
"We plan through 2010 a number of product launches and initiatives providing new and compelling Ashtech offerings to GNSS professionals." Can this statement be inferred as a 'back to business' strategy or an 'expansion' strategy.
Both are true. We continue to serve the GNSS and GPS professionals with our well-known line of MobileMapper professional handheld GIS and mapping products and our GNSS land-survey products led by the ProFlexTM and ProMarkTM product lines. The Ashtech product-launch roadmap for 2010 is very ambitious, with an unprecedented number of new products and initiatives for survey professionals. We've already launched several major upgrades to enhance our latest generation of products, as well as several completely new product introductions. These upgrades impact our GNSS board offerings, as well as marine and land-survey receiver product lines. It is our intention to maintain a fast pace in new technology and product introductions throughout the year.
In addition to incorporating GPS and GLONASS technology, Ashtech is also watching the emergence of other GNSS systems, including Galileo and Compass, and assessing the right time to add those capabilities to its products. "Right feature, right time, right price" is our motto. We want to further grow our OEM board and sensor business, and we are currently involved in many projects with machine control/guidance integrators. We are bringing innovation not only to the product side, but also on the business model side. We are, for example, very open to business partnerships.
Magellan is a well-established brand in the market today, what is your strategy to enable users to accept the 'Ashtech brand' without creating confusion between the two names?
The Magellan brand is well established, particularly in the consumer marketplace. It is equally true that Ashtech is a well established in the precision and professional market. In January 2009, when the consumer division of Magellan was sold to MiTAC a company based in Taiwan that transaction included the Magellan brand name itself. We could have kept Magellan Professional name for three years based on our agreement with MiTAC, but we decided to accelerate the transition to a new brand name. We had the choice between either inventing something new or leveraging one of the best GNSS professional brands in the market. We have a powerful brand in Ashtech. In conversations with customers, distributors, and other business partners, we found a unanimous preference for the Ashtech name. Our professional customers are very happy to have the Ashtech brand back.
2009 with its financial crises saw a very cautious approach in most businesses. How you see the overall 'market' situation evolving in the coming months of 2010?
Thus far we are seeing good signs of recovery around the globe compared to 2009, and we expect this recovery to continue. Construction surveying suffered a great deal in 2009, and we see already that surveying is back up again, and we envision good growth for the remainder of 2010. GIS suffered less in 2009 than survey, since GIS is largely tied to public money. We don't expect to see growth in GIS as big as in survey in 2010, however the GIS/mapping segment is developing nicely for us, and the Ashtech MobileMapper range is winning market share on a steady basis. The most stable segment is our OEM technology group, which has always been an important and growing business for us.
Our global strategy is unified, but we approach each region differently. Some territories in particular are really successful for Ashtech. In Asia for instance, we have many projects in India, we are growing our dealer network in South-east Asia and we are making good inroads in China, where OEM customers are integrating our technology. We have also big plans for Australia where we have just signed Cody Corporation, a new master distributor.
In the Americas, the dynamics are particularly good in Latin America, especially Brazil and Argentina. In the EMEA region (Europe, Middle East and Africa), we are already up in 2010. We have really good and stable channels in Europe, and we are rapidly growing the African and the Middle East channels, where business is pretty good.
The Asian markets like India and China have embraced this technology in the past few years only, where do you see them five years from now?
India and China are rapidly growing areas and Ashtech is very well positioned in both regions. As a matter of fact our motto 'Right features, Right time, Right price' makes great sense in those markets which adopt technologies at a quick pace but also want to access solutions at affordable conditions. More specifically our MobileMapper and ProMark product ranges have been selected by big national civil or military organizations to improve the productivity of their mapping jobs. Our ProFlex products are also currently tested very successfully by various organizations with large scale needs in Surveying. Here again and every single time Ashtech is coming with the bespoke, easy-to-use and easy-to-learn solution as expected by each customer group.
The short term future looks very promising both in India and China. The initiatives of each government – GAGAN and Compass navigation systems – are contributing at all levels to a larger adoption of the GNSS equipments. It is clear that both areas will exhibit outstanding market growth both in quantity of users and in value and the whole industry will benefit from it. For those rapidly developing countries it is our belief that the Ashtech offering will be specifically of interest as granting incredible performances without unnecessary barriers of complexity to technology adoption.
Our motto 'Right features, Right time, Right price' makes great sense in those markets which adopt technologies at a quick pace but also want to access solutions at affordable conditions.
The world is headed for multi GNSS systems, how ready is Ashtech for such a scenario?
Ashtech has always been at the forefront of the technology. This has proven over the years with multiple patents and many firsts as explained beforehand. Today Ashtech is still ahead with our unique and patented BLADE technology optimizing the usage of GPS and GLONASS dual constellation. But BLADE is already tuned to accommodate the future constellations as GALILEO, COMPASS or the GPS modernization part of it. BLADE allows incredible RTK performances with long range and ultimate availability in urban canyons and under canopy. But BLADE also secures cross compatibility with other brands and within any RTK networks in a seamless manner.
Beyond current benefits Ashtech is already paving the way for the future steps in GNSS through strong contributions in the RTCM committee. Ashtech is for example leading the design of the suitable multiple signal messaging and formats for all the future signals to come. As part of the GNSS innovators Ashtech feels obligated to serve the user community to take the greatest benefits of the bright future that the GNSS modernization will bring.