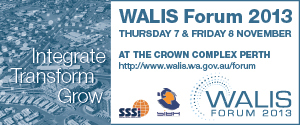 The theme for WALIS Forum 2013 is Integrate, Transform, Grow. More and more companies around the world are using the power of location-based information and technology to integrate information across their operations to transform and grow their business.  WALIS will show you how they're doing it.
This year, the conference is bringing together three previously separate events – WALIS Forum 2013, Western Australian Spatial Information Conference and the 2013 WA Spatial Excellence Awards (WASEA). These events will be held together at the newly refurbished Crown Perth, Perth's premier event site.
A new addition this year is that the WALIS Forum will open with a Business Leaders Breakfast and industry showcase & exhibition.   The showcase will continue into the evening on the first day along with a cocktail reception event for business leaders.