Record Attendance at 34th Annual Esri User Conference
Arecord of more than 16,000 Esri users attended the company's weeklong annual Conference (Esri UC) and five concurrent events in San Diego, California, this past July.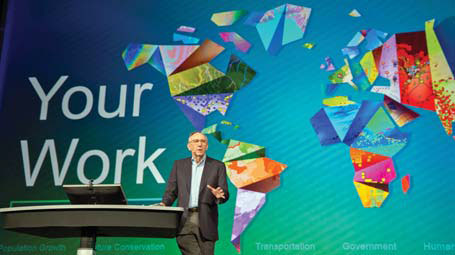 In his opening remarks, Esri president Jack Dangermond talked about how GIS can help create a better future. "Geography is now more important than ever," said Dangermond. Before introducing the keynote speakers, he challenged all GIS users to "be the architects of the future."
Dangermond demonstrated GeoNet, a new social network for the Esri community. He indicated that future ArcGIS releases would include greater use of crowdsourced data, advanced navigation capabilities, and innovative modeling functions. Recognition is a big part of the Esri UC. Royal Dutch Shell received the Enterprise GIS Award, while the City of Rancho Cucamonga earned the Esri President's Award.
Plenary Speakers Set Conference Tone
Dr. Bruce Aylward, the assistant directorgeneral for the World Health Organization's Polio and Emergencies cluster, and Dr. Vincent Seaman, a senior program officer for the Polio Country Support Team at the Bill & Melinda Gates Foundation, spoke about polio eradication. Seaman showed how GIS maps help medical teams locate and immunize children in Nigeria.
United States Secretary of Commerce Penny Pritzker discussed how open data can unlock $3 trillion in the world economy and that her office will appoint the first-ever US chief data officer.
Jane Goodall joined the conference via video from Tanzania to tell attendees how much she appreciates GIS as a major tool in helping protect animal habitats. will.i.am, entertainer and philanthropist, Skyped with conference attendees about his enthusiasm for a wristwatch that included maps created with Esri technology and its potential impact on science, technology, engineering, and mathematics (STEM) education.
Entire Plenary Session Available for Viewing
GIS – Creating Our Future begins with Esri president Jack Dangermond's opening remarks, award presentations, and industry-leading GIS solutions.
Technology and Users highlights new Esri software tools and user demonstrations from the Netherlands; Seattle, Washington, USA; and Singapore. Building Resilient Communities shows the many ways GIS is being used to make communities more resilient in the face of habitat loss, climate change, disease in the developing world, and other challenges.
Special Displays Highlight Impact of GIS
Special displays are an annual feature of the Esri User Conference. Among the 20 displays this year was a special tribute to Roger Tomlinson, the "father of GIS". Another popular exhibition was the Urban Observatory, which compared housing, transportation, public services, and quality of life among 10 major cities in the world. The Annual Young Scholar Award display recognized the exemplary work of international undergraduate and graduate students, while the URISA GISCorps exhibit highlighted the work of its volunteers.
Concurrent Events Bring Together Industry Specialists
On the weekend preceding the Esri User Conference, several special events are held each year. At the 3D Mapping Forum, Lawrie Jordan, Esri's director of imagery, and Esri product engineers discussed the future of Esri 3D imagery. Other topics included unmanned aerial vehicles and mobile mapping, smart 3D cities, and military installation 3D management.
The AEC Summit featured keynote speaker Billy Gililland, president of General Atomics Systems Integration, who discussed how unmanned systems work in our airspace and how the technology will affect civil engineering in the future.
At the Esri Business Summit, speakers from Cisco Systems, Wendy's, Nike, Bank of America, Con-way Freight, and other corporations discussed their use of GIS and location analytics to help improve their businesses.
The National Security Summit brought together GIS users from the defense, national security, intelligence, law enforcement, emergency management, and public safety sectors. Experts discussed critical infrastructure protection, cybersecurity, and activitybased intelligence analysis.
More than 500 educators attended the Esri Education GIS Conference, where they discussed the challenges and opportunities in GIS education. Highlights included nearly 100 user presentations and technical workshops and the GIS Solutions EXPO.
The 2015 Esri User Conference will be held July 20–24 in San Diego, California.