At last! India unveils its map policy
Jun 2005 |
Comments Off

on At last! India unveils its map policy
On May 19, 2005, the Union Cabinet gave its approval to the New National Map Policy brought out by the Ministry of Science & Technology which has the potential to open a new door of opportunities for various sectors ranging from water management to development planning and infrastructure

The economic benefits put together will result in a new value addition of over 20,000 crore rupees
www.pib.nic.in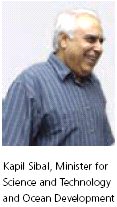 The New Policy envisages two series of maps- the Defense Series Maps (DSMs) and the Open Series Maps (OSMs). The DSMs will be for exclusive use for defense forces and authorized Government Departments. The Policy regarding the use of DSMs will be determined by the Ministry of Defense whereas the Policy on OSMs will be the responsibility of Survey of India/Department of Science and Technology.
OSMs will have a different datum, projection,
content and sheet numbers. These maps will be derived from National Digital Topographical Database (NDTB) which will be created by the Survey of India. The use of OSMs will be through a process of registration for intimation. There will be a Map Information Registry Database (MIRD). 1:1 million and smaller maps do not require registration. OSMs (Digital or Analogue) can be disseminated by Survey of India through an agreement to any agency for specific end use. The user can make value addition to these maps and can share the information under initiations to the Survey of India. All serial photographs after masking of Vulnerable Areas/Vulnerable Points will be freely available for processing and project generation. Private agencies will be permitted to carry out surveys in all parts of the country using Public Domain Datum. But they should be registered and should carry the accreditation of Survey of India. Magnetic/gravity and other scientific data will be collected and disseminated as per existing instructions.
The New National Map Policy is the result of a conscious realization that technological upheavals taking place around the globe have rendered many features of the existing Map Policy redundant and anachronistic. Continuance of the present policy tends to impede free flow of spatial information and engenders high opportunity costs for a developing economy like India. At the same time making all spatial data available in public domain has potential security hazards. Addressing a press conference, the Minister for Science and Technology and Ocean Development, Shri Kapil Sibal described the decision as an "historic" one and "something which we had been struggling for the last 15 years". He said that a one time clearance will be taken from the Ministry of Defense subject to a timeline. He said that the new maps will provide coordinates, heights etc. This kind of data will have enabling value in implementing policy decisions in various fields which figure prominently in the National Common Minimum Programme (NCMP) such as agriculture, water resource management etc. " It will also have tremendous impact on the empowerment of the poor", Shri Sibal said. The Minister was optimistic that the market for spatial data and the economic benefits put together will result in a new value addition of over 20,000 crore rupees. He said that the new maps along with the guidelines will be issued together in a couple of months.