GNSS
Oct 2013 |
Comments Off

on GNSS
Raytheon UK receives first order for its latest GPS Anti-Jam prototype
Raytheon UK has taken its first order for a pre-production MiniGAS, the latest in GPS Anti-Jam technology. This contract, awarded by an undisclosed customer, requires Raytheon UK to produce demonstrator units for customer evaluation. MiniGAS aims to be the lightest and smallest GPS Anti-Jamming system produced by Raytheon UK. It will have flexible form factors, suited to land, unmanned aerial vehicles and missile platforms. www.raytheon.com
Jammer car disrupt signals in entire region
A single well-placed GPS jammer or spoofer could disrupt signals in an entire region of the United States, according to an official from the Homeland Security Department. At the same time, the U.S. still "lacks the capability to rapidly detect and geo-locate jamming or spoofing of GPS services," DHS program manager John Merrill told the annual meeting of the Civil Global Positioning System Service Interface Committee, a global forum that fosters interaction between the U.S. and worldwide GPS users. Merrill did not define the size of a region a GPS jammer could knock out. www.nextgov.com
China's geomatics industry output estimated at 42 bn USD
The annual total output value of China's geomatics industry is estimated to reach 260 billion yuan (42 billion U.S. dollars) by the end of 2013, up 30 percent from last year, a government statement said.
The geomatics industry has expanded rapidly in the past several years in China, marked by great technological advances and service expansion, according to the Ministry of Land and Resources. Citing officials with the National Administration of Surveying, Mapping and Geoinformation, the ministry statement said China's geomatics industry involves more than 23,000 organizations and 400,000 employees. http://english.peopledaily.com.cn/
Nanosatellite CUSat to launch from California
After eight years of planning, submitting, winning, building and waiting, Cornell University's CUSat – a nanosatellite designed and built by engineering students to help calibrate GPS with pinpoint accuracy – will be launched from Vandenberg Air Force Base, Lompoc, Calif. Once in space, the satellite will move into low orbit to help calibrate GPS accuracy to within 3 millimeters. www.news.cornell.edu/
Demo of GPS 3 and OCX Satellite launch and early orbit operations
Lockheed Martin and Raytheon have completed the third of five planned launch and early orbit exercises to demonstrate the launch readiness of GPS III satellite and Operational Control System (OCX). Successful completion of Exercise 3 recently was a key milestone demonstrating Raytheon's OCX software meets mission requirements and is on track to support the launch of the first GPS III satellite, currently being produced by Lockheed Martin. www.spacedaily.com
BDS to navigate China-ASEAN co-op
Beidou Navigation Satellite System (BDS) will play a bigger role in building the "diamond decade" of China-ASEAN cooperation, as hi-tech information technology will be applied in more areas of cooperation. Ran Chengqi, director of the administration center of Beidou Navigation Satellite System, said the system will be widely used in disaster relief, tourism and transportation as an effective way to tap a new cooperative area and new energy. Laos has signed on to apply Beidou in its agriculture and forestry. Thailand chose Beidou because of its wide usage and reasonable price, and the price might be lowered as China-ASEAN cooperation grows. http://africa.chinadaily.com.cn
S Korea develops advanced GPS to reduce errors
South Korea has developed a technology which will enable it to use an advanced GPS in digital multimedia broadcasting devices such as car navigation systems. The country's Ministry of Oceans and Fisheries said that the differential GPS (DGPS) will be made available to the public as early as next year. The new technology enables ordinary devices with a multimedia broadcasting system to receive and use information from the DGPS with only a change of the GPS chip to a multipurpose chip. It also reduces the margin of error down to just 1 meter, compared to conventional GPS which has a margin of error of up to 37 metres.
Trimble News
MEO satellite data for accurate positioning
Trimble Navigation Ltd. has released a preview of its CenterPoint RTX cloudbased, post-processing service, enabling GNSS observations using available Galileo and BeiDou middle-earthorbit satellites, which provide timing, positioning and navigation signals worldwide. The free CenterPoint RTX post-processing service is powered by Trimble RTX technology, a GNSS correction technology that combines real-time data with positioning and compression algorithms.
New compact OEM module with triple frequency GNSS support
Trimble® BD930 module is as part of its GNSS OEM portfolio. This small module features triple-frequency support for GPS and GLONASS plus dual-frequency support for BeiDou and Galileo constellations. Capable of receiving a wide range of commercially available GNSS signals, the 220 channel BD930 takes advantage of all available signals to provide optimal and reliable RTK centimeter positioning. The triple-frequency Trimble BD930 (measuring 41mm x 51mm) is a small, yet powerful GNSS module specifically designed for applications requiring high accuracy in a compact package. www.trimble.com.
GNSS providers to expand and improve GNSS service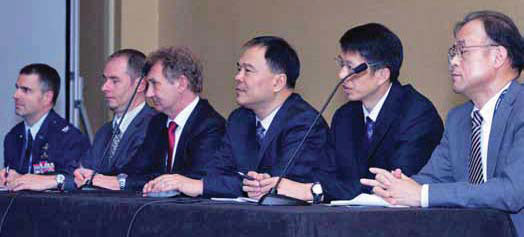 In the recently held ION 2013 meeting in Nashville, Tennessee, USA, each of the world's five major satellite navigation providers were pushing to upgrade and expand their systems with nine satellites set for launch by the end of next year and 20 to be placed on orbit by the end of 2017. The United States plans to launch four GPS IIF satellites by the close of 2014 with the first launch currently scheduled for October 17, according to Col. Bill Cooley, the new director of the GPS Directorate. The first of the new generation of GPS III satellites, which has an additional civil signal, could be launched as early as 2015. Those satellites are part of the overall GPSmodernization plan that will expand the number ofcivil signals, improve the locks, and replace the groundcontrol system.
GLONASS
Russia, which suffered a serious launch failure in July that cost it three satellites, plans to launch four satellites by the end of this year and four more in the latter half of 2014. This is part of an overall plan to place a total of 12 satellites by the end of 2015, according to Sergey Revnivykh, of the Corporation JSC ISS Reshetnev. That schedule too may change, because Russia has now adopted the U.S. approach to launch and will keep spare satellites on the ground, only putting them into orbit when needed.
QZSS
The Japanese are working to expand their Quasi- Zenith Satellite System (QZSS) with plans to build on the success of their experimental satellite named "Michibiki." They expect to launch three more spacecraft in 2017 — one of which will be a geostationary satellite. The initial system, which is expected to begin operation early in 2018, will be managed by QZS System Services Inc., a commercial operation charged with promoting its use, improving and managing the ground system from now through 2032, according to Yoshiyuki Murai of QZS System Services Inc.
BeiDou
China also plans to launch a new test satellite in 2014 as part of the beginning of the third 'global' phase of its development, according to Xianchen "Hunter" Ding of the China Satellite Navigation Office. The system has grown from where it provided an initial regional service to Full Operational Service as of December 27 of last year. The planned launch will be part of the "startup of the third step of construction." The spacecraft is a test satellite and will, like a number of the BeiDou satellites already in place, be in a MEO orbit.
Galileo
According to Eric Châtre of the European Commission, the European Union has 22 satellites ordered and has contracts to launch 14 satellites on seven Soyuz launch vehicles (incuding a 2011 launch) and three launch contracts to loft 12 satellites on Ariane five rockets. The system currently has four satellites and its ground segment in place and is working to reach initial operating capability by the end of 2015. Full operational capability with a constellation totaling 30 satellites is anticipated by the end of 2018. GNSS providers to expand and improve GNSS service www.ion.org