Articles tagged with: ABBAS RAJABIFARD


Metadata is commonly defined as "data about data" and also plays a critical role in any Spatial Data Infrastructure (SDI) initiatives. Metadata not only provides users of spatial data with information about the purpose, quality, actuality and accuracy of spatial datasets, but also performs vital functions that make spatial data interoperable, that is, capable of being shared between systems…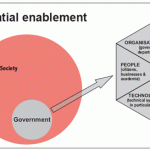 E-Government (or Electronic Government) is described in Wiki as the use of information and communication technology to provide and improve government services, transactions and interactions with citizens, businesses, and other arms of government…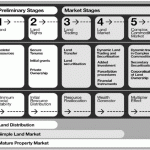 Coordinates : A resource on positioning, navigation and beyond » Blog Archive » Understanding land administration systems…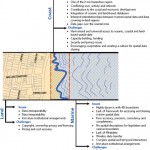 THE land-sea interface is one of the most complex areas of management in the world consisting of both the marine and terrestrial environments. The coastal zone is also home to an increasing number of activities, rights and interests. Population along the coastline is continuously increasing, bringing about new pressures on the fragile eco-system of the coastal zone. This has brought with it an increased need to more effectively and efficiently manage this area to meet the economic, environmental and social outcomes of sustainable development.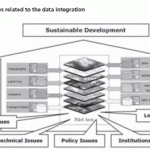 With applying modern technologies to generating spatial data, the amount of spatial data is increasing dramatically and huge amounts of data sets are being created and stored by different agencies.
Despite the growth of spatial datasets and the expansion of their use in different applications and new emerging services, they are being acquired and maintained by different organizations under different policies and even by organizations from different political and administrative levels. In such organizational arrangement, the spatial data providers produce and manage their own datasets without considering the reuse and integration of the datasets by other users, so most of the datasets have been produced and managed for a single purpose…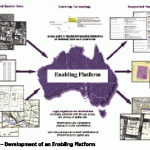 Users of positioning and spatial information services and tools require precise spatial information in realtime and real-world objects. Simply an accurate positioning of a future subdivision is no longer accepted, users require it to be visualized as well, in order to take into account outside in?uences. The capacity to meet such user needs and deliver services and tools within the spatial information market has gone beyond the ability of single organisations (Rajabifard, et al, 2005a). There is now a wide range of products and services available for a wide range of IT applications, and hence the development of an enabling platform can facilitate access to data and sharing resources and tools among different practitioners. The creation of an enabling platform for the delivery of these tools and positioning applications will allow users from diverse backgrounds to work together with current technologies to meet the dynamic market place.