Articles in the Surveying Category


Through all of these changes, there have been some fundamental challenges that seem to me to be an ongoing part of academic life in any professional school. They are challenges that seem to confront many university surveying programs in the world. These and the solutions that we have adopted are the subject of this article.
Seven (7) of the nine (9) points which constitute the National GNSS Calibration Network were occupied using an active VRS receiver. This network of points will form the basis of legal traceability for Cadastral Surveys in Jamaica. The tables 4 and 5 below set out the results.

Virtual Reference System (VRS) comprises a network of three (3), or more, continuously operating Global Navigation Satellite System (GNSS) receivers, sited at points of known coordinates up to 70 Km apart and connected via data links. A control centre, with computer processing capability as well as a mobile phone data link, such as Global System for Mobile communication (GSM), is established for communication between the control centre and the users' rover receivers.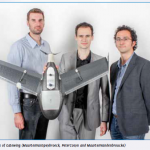 The idea for designing unmanned aerial systems (UAS) for rapid mapping originated from a doctoral dissertation in aerodynamics by Peter Cosyn, one of the three founders and now Director of R&D at Gatewing. Maarten Van Speybroeck, Director of Operations and Finance, was involved with this idea as subject for a thesis.

GPR is a geophysical investigation method. Its principle is similar to that of Seismics but instead of emitting elastic waves, it emits electromagnetic waves. They are much shorter, which leads to a much higher spatial resolution. GPR is sensitive to the electromagnetic properties of the material under investigation. Interfaces of rock formations, fi ssures and aquiferous areas are displayed.

Geological researches have increased the utilization of tridimensional models in the last years in order to make possible visualization, parametrization and interpretation of data. The LIDAR technique allows to acquire a huge amount of georeferrenced data using a Terrestrial Laser Scanner (TLS). Both fastness and accuracy are the main characteristics of this equipment. Its utilization in geological studies has started in the last decade (Bellian et al., 2002), but only in the last years the number of scientifi c articles has increased signifi cantly. The TLS acquires georeferrenced point clouds that can be converted in digital models after processing, especially digital outcrop models (DOM).
There is the continuing need to raise the next generation of professionals that is not only educated and competent but also agile and able to respond responsibly to the growing demands from humanity. Humanity is facing a series of challenges ranging from adequate food and shelter; environmental degradation, natural disasters and climate change; growing income chasm and economic crises. The profession cannot just measure but also need to manage, to mitigate, to meaningfully deploy its sciences and technologies, its knowledge and practices for the betterment of humanity so that the profession remains relevant. Against this backdrop, surveying educators have the unenviable task of educating and shaping our next generation of professionals.

Surveying education has been 'playing' catch up with changes in the surveying/geomatics industry and some individuals are of the opinion that the lag is substantial and demands immediate attention. Not only has technology impacted the surveying industry but the modernisation brought on by information and computer technologies has considerably impacted educational methods used in surveying/geomatics programmes. This paper examines how selected surveying/geomatics programmes address the issue of making their courses relevant to industry needs, student characteristics and one particular trend within higher education. The discussion is based on empirical data from a research that involved fifteen surveying/geomatics programmes from thirteen countries. The study investigated curriculum architecture and pedagogical alternatives within the discipline and the impact these have on students' preparedness for work.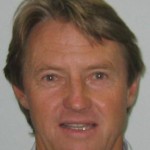 Definition of land boundaries for the purposes of ownership (the Cadastre) or spatial definition for legal and cultural purposes is a vital part of the economic foundation of our society.

The main focus of the paper is to describe the use of emerging technologies in a cost-effective way and to illustrate the cost advantages of these technologies.